Handset Battery Activation
CTM-A2415, CTM-A2415HC, CTM-S2115, CTM-S2415, CTM-S2415HC
VTech 15-series cordless handsets have batteries that are pre-installed at our factory. This saves our partners time and labor costs during the installation.
Turning on the Batteries - Handset
Press the ON button using a paperclip or multi-use tool. Once this button has been turned on, the handset is ready to use and charge. Prior to this operation, the handset battery cannot be used nor will it accept a charge. The battery will have enough initial charge to test for dial tone. Place handset on charging cradle for 12 hours to achieve an initial full charge.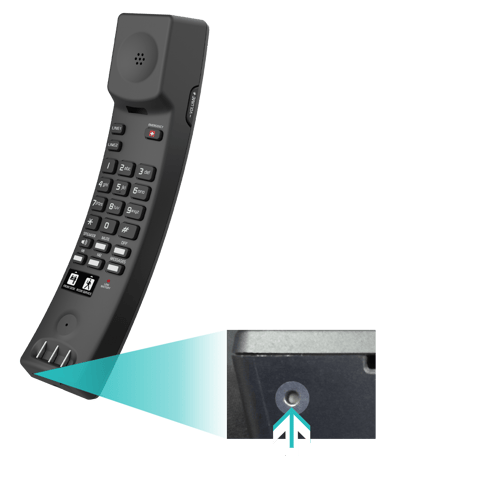 CTM-A2415 Base With Battery Backup
Activating Battery Backup in the Phone Base
Press ON button (located on the bottom of the base unit using a paperclip or multi-use tool) to enable battery backup feature (see arrow). Ensure power cord is attached to base and plugged into a power source for 12 hours to achieve full charge.